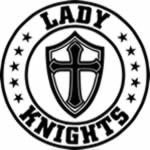 Lady Knights Soccer is devoted to providing our members the finest soccer experience possible, teaching the fundamental skills of the game and developing athletes through organized leagues, teams, tournaments, training, and coaches.
Lady Knights Soccer is committed to making soccer a pleasant, safe, and rewarding experience for everyone involved, regardless of ability.
We are a small select/competitive team with a great work ethic and a drive for soccer.
USSF licensed coaches.
"The price of success is hard work, dedication to the job at hand, and the determination that whether we win or lose, we have applied the best of ourselves to the task at hand."
Vince Lombardi
"Success is no accident. It is hard work, perseverance, learning, studying, sacrifice and most of all, loce of what you are doing or learning to do"
Pele